HELP YOUR IMMUNE SYSTEM, HELP YOU!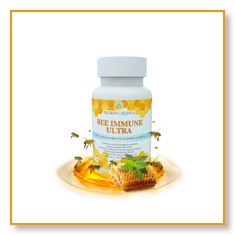 CLICK HERE FOR DR ROBERT GROSS BEE IMMUNE ULTRA CHAT



BEE IMMUNE ULTRA- Immune Support Formula Provides safe, natural support to increase overall immune system function, increase resistance to infections including the flu, and enhance overall well-being.

BEE IMMUNE ULTRA™ is natural solution to improve well-being, increase immune system function and increase resistance to infection. Active Ingredients: Proprietary blend of medicinal mushrooms including Cordyceps, Reishi, Maitake and Trametes, plus Elderberry 25:1 extract, Ashwagandha, and Astragalus.

Warning: If you are pregnant, nursing, taking any medications or have any medical condition, consult your doctor before use. Do not use if allergic to any of the Ingredients. Discontinue use and consult your doctor if any adverse reactions occur, Keep out of reach of children. These statements have not been evaluated by the FDA. This product is not intended to diagnose, treat, cure or prevent any disease.



Thirty Day Supply ($24.95) plus $3.71 S/H

AVAILABLE IN THE UNITED STATES/PUERTO RICO AND U.S. TERRITORIES ONLY!